We explore the latest gold necklace models and gold bracelet designs which are in high demand and can go with any outfit on any occasion.
iPhone 5c features an all-new design crafted from a single, hard-coated polycarbonate body. It is a perfect Valentine gift, available in trendy colours
Declare your love for him with some unique and beautiful gifts this Valentine's Day.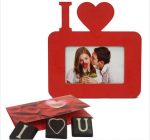 Want your sweetheart to swoon over something unique or personalized? How about a personalized coffee mugs or personalized cushions that proclaim your love for each other along with both your images imprinted on the mugs?
Can't come up with any stunning Valentine idea? No need to worry. We have come up with some amazing ideas for Valentine surprises.
The first celebration of your accomplished love brings pleasure and anxiety at the time as you are never satisfied with your preparations to give your princess the happiness of her lifetime.