Renowned children's author Ramendra Kumar (Ramen) had a "rollicking time" at the Sharjah Children's Reading Festival 2019 (SCRF), spinning yarns, conducting story telling sessions and interacting with vibrant minds in various schools in Sharjah and Abu Dhabi. He takes us on a thrilling journey of eating, talking, dreaming stories with kids and also a glimpse into how this fabulous festival treated him. Learning and Creativity presents
LnC Special Edition of Ghost Stories by Children
that came out of Ramen's sessions at the SCRF 2019.
Hyderabad Literary Festival (HLF) is one of the most popular LitFests in the country. It is held in my alma mater, the iconic Hyderabad Public School. HLF, which focussed on plenary sessions, cultural events, stage talks, poetry recitals  et al, also had a  slot earmarked  for children. Very sweetly titled Nanha Nukkad it comprised a series of events on varied themes. I conducted a workshop called 'Spinning a Yarn' devoted to story writing. Presenting a selection of the imaginative stories that emerged!
What exactly is 'WRITER'S BLOCK' and how can you overcome the syndrome killing your creative output? Dr. Santosh Bakaya, author of the bestselling 'Ballad of Bapu' addresses this question in TEDx Talks and explains it is all in your mind. A remarkable presentation, exclusively intended for aspiring writers.
A Smart Business Sales Letter Makes an Impact. Where is the space to read a large sales letter? Embrace the change, accept the challenge and be smart.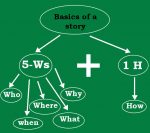 A short story is a bit like a giant jigsaw puzzle where each piece is put together by the writer and given as a complete whole to the reader.
The only major difference is the experienced writer knows the correct mindset to adopt as opposed to the beginner.
Write to please yourself. And find as much pleasure as you can in the company of your work. But don't try to draw others' attention to your work. They shall find nothing in your work to sustain their interest.
In an open-ended story or narrative, the reader is left to draw her/his conclusions from what is presented to her/him.
Metaphor is an ornament of poetry. It lends to the word to which it gets associated clarity and exactitude.
The ultimate purpose of every short story writer is to communicate an aspect of the truth of life.
Of all forms of literature, the short story is perhaps the crest jewel of good writing. It is not too long and therefore ends before one's attention is diverted to something else.
Agatha Christie, the famous writer of detective stories found that the best times for planning a book was while doing the dishes.