A Smart Business Sales Letter Makes an Impact. Where is the space to read a large sales letter? Embrace the change, accept the challenge and be smart.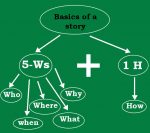 A short story is a bit like a giant jigsaw puzzle where each piece is put together by the writer and given as a complete whole to the reader.
The only major difference is the experienced writer knows the correct mindset to adopt as opposed to the beginner.
Write to please yourself. And find as much pleasure as you can in the company of your work. But don't try to draw others' attention to your work. They shall find nothing...
In an open-ended story or narrative, the reader is left to draw her/his conclusions from what is presented to her/him.
Metaphor is an ornament of poetry. It lends to the word to which it gets associated clarity and exactitude.
The ultimate purpose of every short story writer is to communicate an aspect of the truth of life.
Of all forms of literature, the short story is perhaps the crest jewel of good writing. It is not too long and therefore ends before one's attention is diverted to something...
Agatha Christie, the famous writer of detective stories found that the best times for planning a book was while doing the dishes.