Who says healthy breakfast has to include food which are not pleasant to the tongue? Try these healthy yet delicious easy-to-make granola breakfast recipes.
Silky Smooth Chicken Malaikari is one of my experiments and I just stopped short of yelling "Eureka" when the aroma started wafting around.
When you have some leftover rice and you don't know what to do with, its time for experimenting. Debasish Bhattacharya did just that and came up with a fun recipe that's smart, quick and delicious.
My preparation was Parboni Payesh, the special winter time payesh (the Bengali variant of kheer), made royal with khejur patali gur, grated coconut, milk and condiments.
Next time you are stuck with some chicken breast pieces and a loss of ideas, try this finger-licking recipe of Pan Grilled Chicken Breasts in Thick Gravy.
This story behind Avial recipe, with its origins in The Mahabharata is just as interesting as this healthy vegetarian dish.
If you are in a hurry but want to have a good breakfast before stepping out for the day - fix this easy and healthy salad.
Creative recipes for dum aloo, the eternal favourite which you can cook up anytime. Try it the Bengali way with baby potatoes this Diwali.
A creative recipe of Chicken Roast, very easy to cook but tastes divine…! Try out great creative recipes in our new section Creativity in Kitchen.
This holiday season why not indulge in deep dark chocolate desserts that contain superbly nutritious ingredients.
Who says you can't enjoy the scrumptious holiday goodies and still maintain some waist management? Try snow-dusted mini linzer tart cookies that are festive, light and nutritious!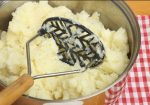 You can accomplish a check on weight gain during holidays by allowing yourself indulging in small amounts of your favorite holiday treats.
Enjoy brownie bites on Christmas and New Year by Dr. Janet Brill which are low cholesterol and mouth-watering.