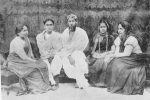 On Rabindranath Tagore's 79th death anniversary, Shoma A Chatterji explores Tagore's outlook towards women in the context of his dance dramas Chitrangada and Chandalika as well as his own approach towards his daughters.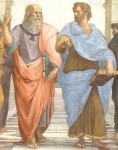 The whole concept of literary criticism arises, maybe, out of a question: On what basis do we judge a book/text as being better than another book/text? Is it subjective, based on one's personal opinion, or objective; based on a set of parameters? Or both?
A unique, experimental poetic form, the Roseate Sonnet, invented by Dr. A.V. Koshy and inspired by the symbol of the rose, that also inspired other poets to try it.
A Book Review of "Beckett's English Poetry : Transcending the Roots of Resistance in Language" by Dr A.V. Koshy published by Authorspress Global Publishing Network.
Reading Dickens in the bicentennial year of birth: representation, art and aesthetics in commercial and industrial England as mirrored in 'Hard Times'.
Dr. Koshy's 'Treatise' is a journey to make his readers understand why and how, poems through the ages, through their similes, metaphors, onomatopoeia, alliteration, euphony and cacophony, are actually meant to cater to our hearts, our emotions and finer human feelings.
These women have searched for independence, creative and spiritual liberty and aesthetic fulfillment within their restrictive sociocultural milieu. Walker expresses the spark, the activities, the challenge found in the creative spirit of these women.
P G Wodehouse – the pasha of plot, the czar of characterisation, the maestro of metaphor, the sultan of simile and the indisputable lord of the language.
It is a difficult task to pick any one literary character among the numerous who swim around my head; signify some part of my life or the other.
The cocoon of science around our lives is so comprehensive that it has become more than a sine qua non for the world to go on today. Not only that. In the non-material,...
The Arabian Nights, containing as it does examples of framing, self-reference, hidden patterns, recursion, and intertextuality, has become a source of modernist fiction, which artists can imitate, invert or parody.
The autobiographical writings of Babur and Jahangir, Abul Fazal's autobiography, appended to Ain-i-Akbari, also gained extensive acclaims.
Lord of the Flies by William Golding explores the boundary between human reason and animal instinct, all on the brutal playing field of adolescent competition.
Interpreter Of Maladies by Jhumpa Lahiri won the Pulitzer Prize for Fiction in 2000. A review by Paul Sanjoy Gonsalves
The only place outside the imaginative territory of literature where reality and unreality lose their distinction and get blurred...