Children love making their own Christmas tree. We present here some great how to make Christmas tree with paper and with the Origami art.
Christmas is almost here. Spread the joys and good wishes to your friends and family by sending them these hand made cards.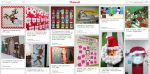 Check out this cool collection of Christmas Bulletin Board ideas from the best teachers sites, Pinterest boards and crafts corners.
Kids & Moms don't wait for a snowy day to have some wintertime fun! You and your kids can make a snowman anytime with this festive craft ideas.
Turn your New Year's Resolution Ideas Into Reality. This powerful goal setting program shows you not just how to set your goals and reach your new year's resolution ideas, but most importantly how to achieve them faster than you ever thought possible.
It is said, that Santa brings gifts to the good children on Christmas Eve. He makes a list of what the kids want to receive for Christmas, and delivers these presents according to their behavior throughout the year.
If you're looking for a way to do something crafty with your time, here's how to make a paper Christmas tree.