Tag Archives:
Waheeda Rehman
This is in continuation to Musically Yours, 1963 Part 1.
Monica Kar explores the composers who made her birth year, 1963, rich with their art, skill and magic!
Teesri Kasam – the name given to Maare Gaye Gulfam for its cinematic version – was hailed a classic and collected reasonably well at the box-office though a little too late for its producer - the great poet Shailendra. Vijay Kumar explores the similarities and deviations between Teesri Kasam and Maare Gaye Gulfam,...
Pyaasa, Mujhe Jeene Do, The Guide, Teesri Kasam and Kaagaz Ke Phool – Waheeda's best four movies to my mind, Waheeda played the women who traded their charms for sustenance." Vijay Kumar revisits these films from the perspective of the towering women characters in them played by Waheeda Rehman.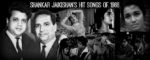 Jaane kya tune kahi
in
Guru Dutt's Pyaasa
(1957) is a masterpiece in the world of music and cinematic technique.
Anand Desai (in maroon)
and Antara dig into the finer nuances of this classic song, unspooling its various artistic and creative layers - composition, rendition, camera work,...