Tag Archives:
Waheeda Rehman
Teesri Kasam – the name given to Maare Gaye Gulfam for its cinematic version – was hailed a classic and collected reasonably well at the box-office though a little too late for its producer - the great poet Shailendra. Vijay Kumar explores the similarities and deviations between Teesri Kasam and Maare Gaye Gulfam,...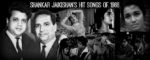 Jaane kya tune kahi
in
Guru Dutt's Pyaasa
(1957) is a masterpiece in the world of music and cinematic technique.
Anand Desai (in maroon)
and Antara dig into the finer nuances of this classic song, unspooling its various artistic and creative layers - composition, rendition, camera work,...