Tag Archives:
Rajinder Krishen
Silhouette Magazine, Bimal Chadha, the nephew of Shyam, (eldest son...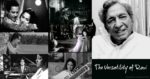 Ek Nazar 1951, we find they were a precursor to SD Burman's hits that would follow later, styles that would evolve and set precedents and experiments that would become the hallmark of the singers. An analysis.
Anand Desai (in maroon font)
and Antara explore the finer nuances of this quietly introspective ghazal,...